BOUsci23 call for abstracts!
November 21

-

November 22
Global flyways: a synthesis of bird migration research
#BOUsci23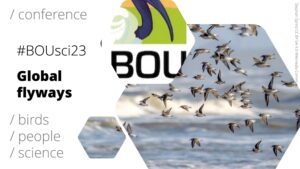 Zoom abstract submission deadline: 0900 BST, 19 June 2023
Poster & Twitter-only abstracts also welcome (deadline 31 July 2023)
The conference programme will take place over a single 24-hour period, divided into three sessions focusing on Africa-Eurasia, Americas and Asia-Pacific flyways, respectively.
Keynotes
Miriam Liedvogel, Institute of Avian Research, Germany
Blackcap migration: adaptation in time and space
Brady Mattsson, University of Natural Resources and Life Sciences, Austria
Modelling and decision analysis to inform sustainable management and conservation of migratory species
Tammy Davies, Birdlife International, UK
Seabird flyways: a framework for international collaboration 
Mohamed Henriques, University of Groningen, the Netherlands
Moving towards a more equitable flyway: how to tackle current barriers constraining a more regionally balanced research and conservation
Marius Somveille, University College London, UK
Energy efficiency shapes global bird migration flyways
Kristen Rueg, Colorado State University, USA
The Bird Genoscape Project: applying genomics to full annual cycle bird conservation
Emily Cohen, University of Maryland, USA
Chancing on a spectacle: co‐occurring animal migrations and interspecific interactions
Nick Bayly, SELVA, Colombia
Title TBA
David Wilcove, Princeton University, USA
Why do we know so much about migratory birds but not enough to conserve them?
Jimmy Choi, Duke Kunshan University, China
Where to draw the line? Using movement data to inform conservation decisions and conserve migratory waterbirds in East Asia
Nyambayar Batbayar, Wildlife Science and Conservation Center of Mongolia, Mongolia
Title TBA
Hiroyoshi Higuchi, University of Tokyo, Japan
Migration of land and water birds along the Asia-Pacific flyways